Visit to Primary Care team – Mamaway Wiidokdaadwin (meaning Everybody helps)
Posted on July 13, 2023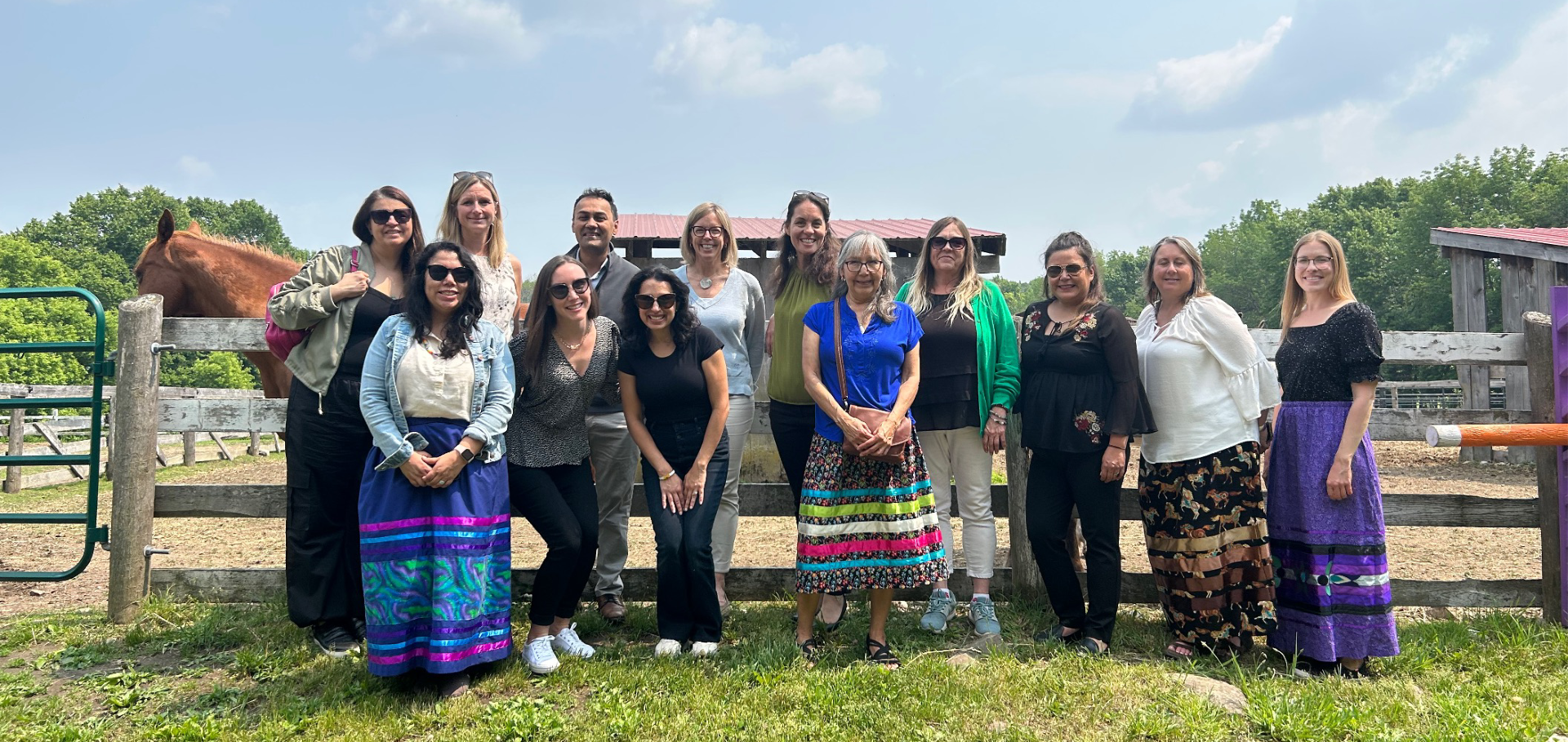 On June 16, 2023, staff from the Health System Transformation and Healing and Wellness team from the Indigenous Primary Health Care Council (IPHCC) attended a site visit at the Mamaway Wiidokdaadwin office and the Horse farm (HEART retreat) in Orillia, Ontario.
There was also representatives from Ontario Health team who attended as well . This was a great show of partnership support and collaboration.
We were greeted with a warm welcome from Germaine Elliott the executive director.  She explained Mamaway Wiidokdaadwin name comes from the vision of seeing many people around an individual as support to hold them up with their hands. Together, their hands help keep the individual straight & tall; standing up in a positive way with the help of others.
They are providers of wholistic health care & wellness programming incorporating Indigenous culturally grounded, collaborative health care.
Mamaway provides a variety of programs and services in the Orillia and Barrie Community: immunizations & vaccines, pre & post natal care, diabetes management, foot care, cancer screening, chronic conditions support, sexual health education, mental health & addictions services, counselling & wellness, cognitive behavioral therapy, Indigenous healing practices with elders, knowledge keepers, and medicine people. They have a staff that range from Addictions and Mental Health workers, Counselling and Wellness workers, Administration, Clinical team, Community program workers and Life Promotion workers.
The site visit was a fantastic opportunity for IPHCC team to learn more about the programs and services, get to know the Mamaway staff and to tour the facility. The staff at Mamaway gave a wonderful presentation about the clinic, and how the midwifery, counselling, addictions, mental wellness programs and services assist the community. We were also able to have a look at the newly remodeled mobile health clinic unit. This will be a very valuable resource to reach the community and surrounding areas.  We were also provided a delicious traditional feast for lunch.
Following our lunch, we were able to get a tour of the horse farm (HEART Retreat) and take a walk on the grounds at where ceremonies and workshops are held for the land-based healing program. We were able to meet some of the horses as well. They explained how the horses and mother earth are used to assist with the healing programs. Horses have to ability to help to heal and show how to step into your own power and how-to walk-in balance through healing therapy.
This was a great opportunity to see how the Primary Health care programs are assisting the community and making a difference in people's lives. And share the experience with other partners.